The Real Estate you've been looking for
Find Your
Property In Greece
Why Choose Ktimatoemporiki
Ktimatoemporiki combines profound market knowledge with one of the most competitive and extensive portfolio
Our Vision

Our goal is to excel in a market that is continuously growing. Twenty years of experience and our expertise have helped us understand how critical a financial transaction in real estate can be.

Our Values

With integrity and with a "get it done" attitude, we make promises and then we keep them. We commit to our customers and partners satisfaction, by being versatile in order to understand, shape and fulfill all kinds of requirements.

Our Experience

Highly motivated associates, experienced in every aspect of the Real Estate industry, will guide you through the investment process providing advice and insights in estate transactions, property assessments, market research and property management. Our thoroughly selective portfolio includes, besides more than 8,000 properties in Greece and other attentively selected Greek islands, lands for investment and development.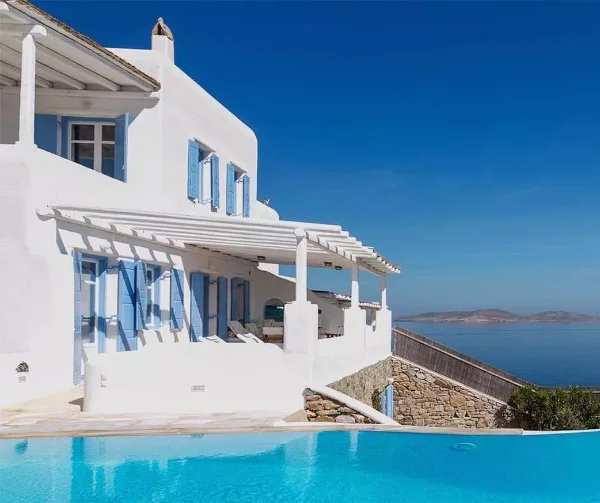 Devoted to our values, our services are destined to earn your trust and satisfaction.
Yiannis Kriaras
Ktimatoemporiki CEO Popular Locations
Unlock a world of diverse real estate options across various cities on our exclusive website
Greece Property News
Refer to news releases published by Ktimatoemporiki Greece Property for the latest updates on political matters, economic performance, tourism in Greece, real estate market analysis, and other matters that could potentially affect property investment and living in Greece.
Real Estate Price Trends in Greece
In May 2023, the desired price for properties for sale was higher in the Aegean Islands region, at €2,937 per square meter. In contrast, for properties for sale in the Thessaly region, the desired price was only €1,195 per square meter, the lowest in the entire Greece region.

During the same month, the desired price for rental properties was higher in the Attica region, at €10.77 per square meter per month. The lowest desired price, on the other hand, was recorded in the Central Greece region, at only €5.85 per square meter per month, the lowest price in the entire country.
| Prefecture | Sale (€/sqm) | Rent (€/sqm) |
| --- | --- | --- |
| Attica | 2.795 | 10,77 |
| Epirus | 1.444 | 7,48 |
| Thessaly | 1.195 | 6,62 |
| Thessaloniki | 1.842 | 7,59 |
| Thrace | 1.212 | 6,16 |
| Crete | 1.959 | 8,21 |
| Macedonia | 1.629 | 6,92 |
| Aegean Islands | 2.937 | 7,89 |
| Ionian Islands | 2.177 | 8,81 |
| Peloponnese | 1.402 | 6,73 |
| Central Greece | 1.244 | 5,85 |
Testimonials What Our Clients Say
Our agent Giannis Kriaras was extremely attentive to our needs, and was very creative in finding solutions to our special requirements. Gianni and his brother Giorgos have always been ready to help us with even the smallest details in the 4 years we have worked with them. They helped us find just the right real estate that gave us the right to receive a 'Golden Visa'. Giving us the right to live in Chania.
Rosemary Lloyd - Customer
First rate professional organisation. We have now bought a house and land through this agency and would not hesitate to use their services in the future. Their knowledge of the market in Crete is unmatched and the customer care is excellent. We can not recommend them highly enough.
A trustworthy real estate agent ?!?! Yes indeed ! Even we didn't believe it while spending endless time searching for a real estate investment... But they exist !!! Located in the western part of Crete, Chania, they inspired trust and professionalism from the very beginning. Thank you Ktimatoemporiki for making our dream come true.
Our services
As our client, you will enjoy an exemplary level of services, provided by our selected team of partners and associates. We will work with you every step of the way to fully understand what you need and guide you through the process.

Consulting
With 25 years of experience, Ktimatoemporiki is your best real estate agency option whether you want to buy, sell or rent a property in Crete and the Cyclades.

Investments
Operating with a flexible and goal-driven strategy, we collaborate with multiple reliable sources and we manage the largest property portfolio in Greece.

Greek Golden Visa
Our company can assist with every step of this process and help investors acquire the Golden Visa and their permanent residency in Greece.

Property Management
We use our know-how and our expertise to provide you with property management advice and services that will save you time and worries.